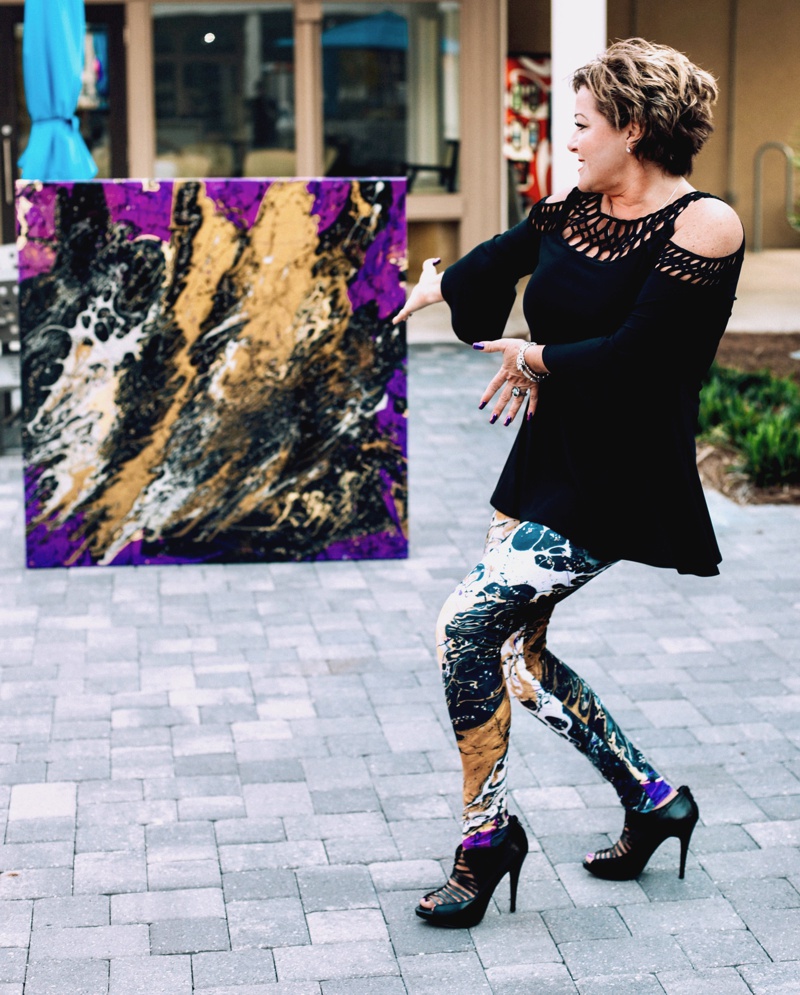 Born and raised in Louisiana, artist Velia Lala has had a multi-faceted career, spanning more than thirty years. From abstract to classical to castings, Velia's work reflects her passionate background and zest for life. Velia's original and custom works exude life and energy with vibrant colors and textures that evoke authentic and positive emotions. Her talent is showcased through a multitude of artistic techniques that include acrylic, mixed medium, epoxy high gloss, photography and body casting/bronzing.
Recently, Velia's eye for design brought her work into the world of fashion through her Wearable Art clothing and accessories line.
Velia's work has been featured in regional media publications, galleries and in national and international publications including VIE Magazine, VIP Destin Magazine as well as on the cover of American Spa magazine. Her work also received media attention for her custom flag series, in particular, her "American Pride" collection. A staunch supporter of the divisions of United States Armed Services, Velia has presented pieces from her patriotic collection to American troops and their families in addition to donating to worthy causes such as the Wounded Warrior Project. In 2016, Velia was selected as an Honorary Commander of the 29th TSS.
Additionally, Velia was named the Sculptor of the Year for her life casting work by Visit South Walton Tourist Development Council in 2017. Showcased in galleries worldwide in cities like Miami, to New York City, Seattle, Napa, Key West, Austria, and more. Muzeul Asociatiunii in Sibiu, Romania has added two of her paintings to their Permanent Museum Collection!
In addition to her collection of custom and original art, Velia is an advocate for art education through her corporate team building programs. She has brought together military, non-profit and countless other businesses to create a learning experience with incredible artistry and team interaction and communication.
"My inspiration comes from my joy of living life to the fullest, music, travel and the human body," said Velia. "I am inspired everyday by something new. The first thing I do every single morning before I get out of bed is turn on music. I am a very diversified artist and educator and I look for inspiration at every turn."
Velia is a Contributing Artist to Sinfonia Gulf Coast, Wine Women & Shoes For Children's Music Education, Bowlegs Augustus Museum, Cattleman's Baron Ball Cancer Research, Gulf Coast Heritage Museum, Emerald Coast Scuba Special Military Operations, Alaqua / Sinfonia, Children's Advocacy Center Gala, and Chattanooga Heart Association.