Glitzy Pours
You've never had so much fun getting messy with paints and ending up with a fabulous one of a kind masterpiece. And you definitely won't see this in your best girlfriend's house. That's why it's so much fun participating in these parties. You all learn the same techniques and you don't have to paint the same painting. Nothing boring about these three hours of learning and play time. I promise you'll want to book your next class before you leave for the evening.
You will be working with Epoxy Resin in the class, so you will need to let your masterpiece cure for at least 24 hours and return to collect your art. This class is not recommended if you are pregnant or have a low tolerance to fumes. Doors will be open for ventilation, but fans cannot be used due to particles flying into the art work.
Glitzy Pours – July 16th, 6pm
$95 and all supplies included
Corrugated Construction with Resin
Is it really just cardboard?
Wouldn't you like to find out why most people think it is metal?
That's the usual comment to these stunning pieces of art you will create in this two hour class. Adult and Children love this one.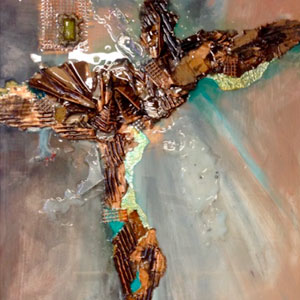 Layered Techniques
This is such a fun class where you will take away a beautiful layered piece of art you create.
You will start out by choosing from pre prepped canvasses or panels with texture all ready for you.
We will then add layers from a multitude of papers & embellishments while learning the concept of patterns and flow.
You will walk away with your very own masterpiece.
Layered Techniques – July 23rd, 6pm
$95 and all supplies included